HauntedHouse.com is committed to developing the most comprehensive directory of haunted house-related web sites including Haunted Places, Haunted Attractions and Marketplace to find haunt-related items than anywhere else on the internet. Part of that commitment is to maintain only fresh content which ensures a positive visitor experience. This is why we've dumped our old directory and we're asking you to re-submit your site or haunt.
Few Things to Know
Listing your site or haunt on HauntedHouse.com is not free but considered "Linkware." In other words, we ask that you link back to Haunted House.com in exchange for being listed in our online directory for free. We offer a wide selection of banners and text links to make it quick and simple.
Not Linking back to HauntedHouse.com will result in your
listing being rejected or removed from the site.
To ensure you have the best chances of acceptance into our Directory, please review our Submission Policy before submitting your site/haunt.



When submitting your site or haunt, please DO NOT use promotional copy in your description. For example, "we're the best haunted house" or "we offer the best prices anywhere" would not be acceptable. Simply explain why people should visit your web site... this will result in more click-thru's for your site.
Updating Your Site or Event


If a site has been accepted for inclusion in the directory but you are dissatisfied with how the site is described or titled, you may go to the category where it is listed, and fill out the "Update Site" form. If you are dissatisfied with the category in which your site is listed, you may send an e-mail to an editor for the category explaining your disagreement. Be polite and civil -- threatening or abusive behavior will not be tolerated.



Editorial Discretion


Please recognize that making HauntedHouse.com a useful resource requires us to exercise broad editorial discretion in determining the content and structure of the directory. That discretion extends (but is not limited) to what sites to include, where in the directory sites are placed, whether and when to include more than one link to a site, when deep linking is appropriate, and the content of the title and description of the site. In addition, a site's placement in the directory is subject to change or deletion at any time at our sole discretion. You should not rely on any aspect of a site's inclusion in the directory. Please understand that an editor's exercise of discretion may not always treat all submissions equally. You may not always agree with our choices, but we hope you recognize that we do our best to make fair and reasonable decisions.

Submission Policies

No Mirror Sites!

Do not submit mirror sites. Mirror sites are sites that contain identical or very similar content, but has a different URL.

No Social Network Pages! Do not submit MySpace Pages, Facebook pages, Twitter or any other Community website page to HauntedHouse.com. They will not be accepted as legitimate links.

Do not submit a site already in our Directory! Do not submit URLs that contain only the same or similar content as other sites you may have listed in the directory. Sites with overlapping and repetitive content are not helpful to users of the directory. Multiple submissions of the same or related sites may result in the exclusion and/or deletion of those and all affiliated sites.

No Illegal Content! HauntedHouse.com has a strict policy against the inclusion of sites with any illegal content. Examples of such illegal material include child pornography; libel; material that infringes any intellectual property right; and material that specifically advocates, solicits or abets illegal activity (such as fraud or violence).

No Under Construction Sites: We recommend you not submit sites "under construction." Wait until your site has minimal information before submitting it. Sites that are incomplete, contain "Under Construction" notices, or contain broken graphics or links aren't good candidates for the directory.

At the current time, HauntedHouse.com only allows web site to be listed in no more than 2 different categories. You will need to identify the two best categories for your site. HauntedHouse.com has a wide array of subjects to choose from. You should submit a site to the two most relevant categories. Sites submitted to inappropriate or unrelated categories may be rejected or removed. The exception is in the Marketplace area where a company may be listed in up to 3 different categories.




After Your Site is Submitted
A HauntedHouse.com editor will review your submission to determine whether to include it in the directory. Depending on factors such as the volume of submissions to the particular category, it may take up to a week before your submission is reviewed. Please only submit a URL once. Again, multiple submissions of the same or related sites may result in the exclusion and/or deletion of those and all affiliated sites.

Banner Placement
For your listing to be included as a free listing YOU MUST HAVE THE HAUNTEDHOUSE.COM BANNER POSTED ON YOUR SITE AND LINKED TO HAUNTEDHOUSE.COM! If you do not have our banner on your site on your links page or elsewhere where the banner can be easily found, we will not approve your listing.

Banner placement is checked throughout the directory several times a year. If we do not find our banner on your site you risk losing your free listing. Click here to download our banner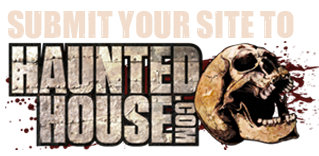 CLICK HERE TO SUBMIT YOUR WEBSITE TO HAUNTEDHOUSE.COM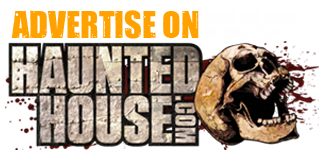 Get a Featured Listing with Expanded Listing, Featured banner ad, and Prioritized Mobile placement by Advertising with HauntedHouse.com!!
CLICK HERE FOR DETAILS!
NEED TO UPDATE YOUR LISTING? CLICK HERE!

If your site is not relevant to the above categories, please do not submit your site. HauntedHouse.com's goal is to only display sites which are haunt-related in some nature. We appreciate your understanding.


Not Linking back to HauntedHouse.com will result in your listing being rejected or removed from the site.